DDC Dolphin Machines

Washer Disinfectors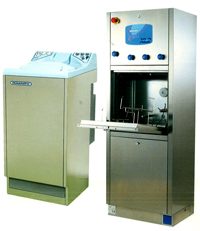 DDC Dolphin brings a new generation of front and top-loading washer disinfectors to the market.
Designed to empty, wash and disinfect human waste containers such as bedpans, commode pots and urine bottles, panamatics incorporate modern design concepts and the latest technological advances. Most important of all, Panamatics comply with all the latest European Hygiene Standards and Water Regulations.
Simple to Install
Simple to Operate
Simple to service and maintain
Large and small capacity machines
Maceration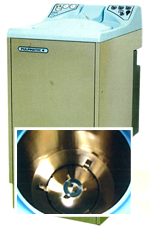 Unique Hand Free Operation
Plupmatic+ Macerators offer complete hands-free operation by mean of a foot plate at the base of the machine and an optical sensor to close and start the machine. The Plupmatic+ is the only machine with complete hands-free operation making it not only more convenient, but also more hygienic to use than other macerators and reduces the potential for cross contamination.
Efficient and Economical
Dual Antimicrobial Action
Enviromentally Friendly
Simple to install
Easy Servicing Programme
Versatile Operation
Clinical Waste Disposal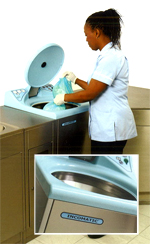 DDC's answer to cost effective incontinence pad and happy disposal
The Incomatic presents a convenient and hygienic means of disposing of incontinence waste. What's more, the Incomatic can save you money!
Hands-free lid opening
Advanced cutting technology
Cost-effective disposal
Automatic disinfection available
Antimicrobial Lid